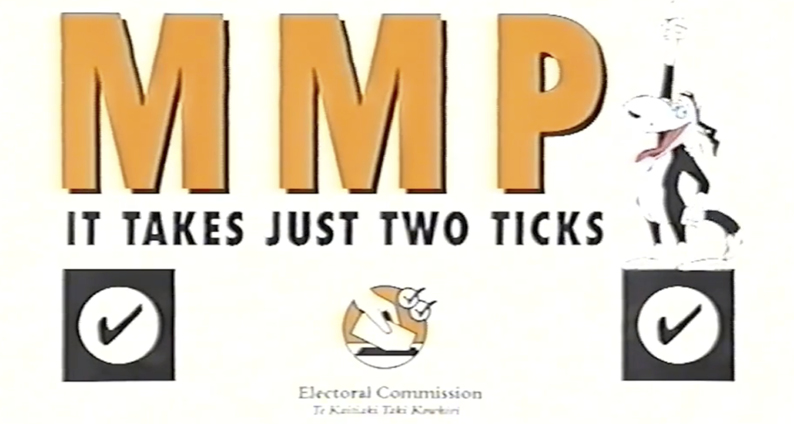 Photo of 1996 MMP public information. Used with permission of The Murray Ball Estate.
An extensive education programme was delivered by electoral agencies to prepare and inform voters about the new system before the 1996 election.
It included a campaign developed with Footrot Flats creator Murray Ball for the former Electoral Commission. Characters Wal, Cooch, Aunt Dolly and Dog explained how MMP worked – it took just two ticks.
The first MMP election
The first MMP general election was held on 12 October 1996 and there wasn't a clear winner on the night.
National won 33.8% of the party vote (44 seats), Labour 28.2% (37 seats), New Zealand First 13.4% (17 seats), Alliance 10.1% (13 seats), ACT 6.1% (8 seats) and United 0.9% (1 electorate seat).
No one party had a majority in Parliament. New Zealand First held the balance of power and conducted negotiations with both National and Labour.
On 10 December, National and New Zealand First entered an agreement, forming a coalition government with a one seat majority (61 seats).
2011 Referendum on the Voting System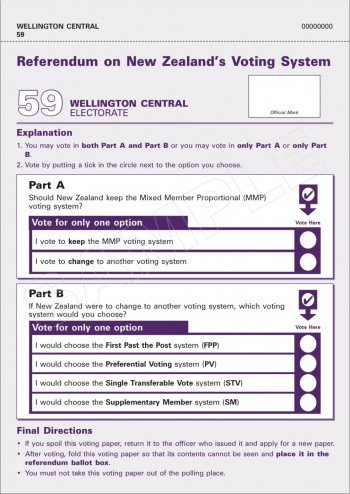 A sample voting paper for the 2011 referendum.
In October 2009, the National-led government announced that a referendum on New Zealand's voting system would be held at the same time as the 2011 General Election, to check whether people continued to support MMP.
In the referendum, voters were asked if New Zealand should keep MMP. 58% voted to retain MMP, and 42% voted for change.
Voters were also asked, if New Zealand were to change to another voting system, which system they would choose - First Past the Post (FPP), Preferential Voting (PV), Single Transferable Vote (STV), Supplementary Member (SM). FPP was the top alternative, with 47% support.
2012 Electoral Commission review of MMP
The result of the 2011 referendum triggered a review of MMP.
The legislation setting out the process for the 2011 referendum said a review would be held by the Electoral Commission if at least 50% of voters opted to retain MMP. The purpose of the review was to determine whether changes were 'necessary or desirable'.
The Commission made a number of recommendations, including lowering the party vote threshold from 5% to 4% and abolishing the one electorate seat threshold for allocating list seats.