Kids Voting – Te Pōti a Ngā Tamariki gives your school everything it needs to run a mock election. Teach your students about real candidates, parties and election issues, and give them a first-hand voting experience.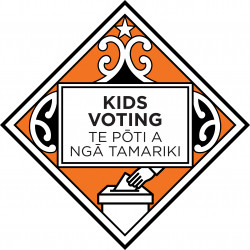 More than 130,000 students from 1,033 schools across New Zealand registered for the 2020 programme.
How it works
Kids Voting – Te Pōti a Ngā Tamariki is a civics education programme that gives young New Zealanders the opportunity to explore real-life election issues, parties and candidates.
The programme builds up to a mock election, which gives students first-hand experience of the voting process.
Download our Teachers Guide for more information about running your mock election.
Teachers Guide (PDF, 693KB)
Support your students with our curriculum-aligned teaching units
Use our teaching units to help your students understand how voting works and encourage them to take part.
We have units that align with levels 1 to 5 of the New Zealand Social Sciences Curriculum and level 5 of Te Marautanga o Aotearoa.
Voting in the referendums
At last year's general election, New Zealanders were given the opportunity to vote on two referendums – one on whether the End of Life Choice Act 2019 should come into force and the other on whether the recreational use of cannabis should become legal.
Our updated teaching units include a section on what referendums are and how they work. However, it's up to you to decide how to explore the issues of the referendums with your students.