Kids Voting – Te Pōti a Ngā Tamariki gives your school everything it needs to run a mock election. Teach your students about real candidates, parties and election issues, and give them a first-hand voting experience.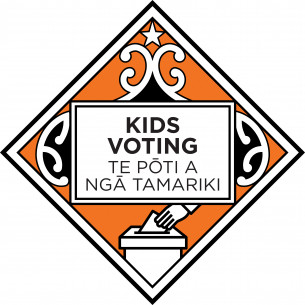 Thousands of students across New Zealand have had their say with Kids Voting - Te Pōti a Ngā Tamariki. Over 148,000 students took part in Kids Voting - Te Pōti a Ngā Tamariki for the 2017 General Election.
Registrations are now open for the 2020 General Election and referendums.
Register your school now using our online form
How it works
Kids Voting – Te Pōti a Ngā Tamariki is a civics education programme that gives young New Zealanders the opportunity to explore real-life election issues, parties and candidates.
The programme builds up to a mock election, which gives students first-hand experience of the voting process.
Support your students with our curriculum-aligned teaching units
Use our teaching units to help your students understand how voting works and encourage them to take part.
We have units that align with levels 3, 4 and 5 of the New Zealand Social Sciences Curriculum and level 5 of Te Marautanga o Aotearoa.
New teaching resources available
This year we're also introducing a suite of new and improved curriculum-aligned teaching resources that you can adapt to the needs of your students.
When you register for Kids Voting – Te Pōti a Ngā Tamariki we'll send you printed copies of the new teaching resources at the beginning of Term 3 along with a ballot box and guide to running your own mock election. We'll also let you know when our new digital resources are online – they'll be free for anyone to access at any time.
New and improved printed teaching resources
Making Choices is aligned with Levels 1-2 in the New Zealand Social Sciences curriculum. This resource helps students explore their role in society and how they can participate.
Your Voice, Your Choice now provides you with ways to introduce te reo and te ao Māori in your teaching of civics and citizenship.
A new te reo Māori glossary with essential terms will provide stronger connections to our Māori-medium resource, Tūranga Mūa, Tūranga Tika. Use this resource alongside your other chosen Your Voice, Your Choice resources.
New digital resources
The graphic organisers from our teaching resources are now writeable PDFs and Google Slides, so students can use them in their digital classroom.
An online professional development module to help your teaching of civics and citizenship. This module makes links between our teaching resources and the New Zealand Curriculum.
Digital inquiry cards with 30 historical images and questions to prompt conversation and inquiry in your classroom. Use the inquiry cards to help build on students' knowledge and extend their learning about civics and citizenship.
A new teaching guide on how to adapt our Your Voice, Your Choice resources for a face-to-face or digital environment.
Voting in the referendums
At this year's general election, New Zealanders will be given the opportunity to vote on two referendums – one on whether the End of Life Choice Act 2019 should come into force and the other on whether the recreational use of cannabis should become legal.
You can find out more about the referendums at referendums.govt.nz
Our updated teaching units include a section on what referendums are and how they work. However, it's up to you to decide how to explore the issues of the referendums with your students.