This section outlines the special rules that apply on election day before voting closes.
No campaigning on election day
Any activities (including advertising) promoting the election of a candidate or party or attacking a party or candidate are prohibited on election day and are a criminal offence. The full list of prohibited activities is set out in section 197 of the Electoral Act which effectively prohibits anything on election day which can be said to interfere with or influence voters, including processions, speeches or public statements.
The party secretary should be particularly careful to avoid any grounds for complaint.
Before election day you must ensure all the party's election advertising that can be seen from a public place is removed or covered up. Returning Officers are authorised to remove or cover advertising and charge the costs to the people responsible.
Signs on vehicles, including bumper stickers, must be covered or removed. T-shirts and flags featuring party or candidate names, emblems, slogans or logos cannot be displayed on election day. For this reason, the distribution of party or candidate bumper stickers, t-shirts and flags is not recommended. Once distributed, you cannot be sure that they will not continue to be displayed on election day. You could expose your supporters to the risk of inadvertently committing an offence.
Party headquarters
A statement, party name, logo, slogan or emblem on party headquarters may remain on election day if it does not refer specifically to the election campaign.
This exception does not apply to a mobile headquarters.
Delivery of election material
You must not deliver election material through the post or directly to mailboxes on election day. To avoid breaches, New Zealand Post will not accept mail for delivery after 9 days before election day.
To reduce the risk of postal delivery on election day, party secretaries should also ensure that any mail is clearly identifiable as being election-related. If you, or your supporters, hand-deliver election material directly to mailboxes on the Friday before election day, you can expect complaints by voters who think the material arrived on election day.
All complaints will be reviewed by the Commission and where appropriate referred to the New Zealand Police.
Contacting voters
Your party may wish to offer voters assistance to get to the voting place. You are entitled to contact voters on election day for that purpose. However, party officials or supporters are not allowed to say or do anything which encourages them to vote for the party or candidates.
If your supporters are contacting voters door-to-door or by phone, the Commission recommends that you use a script and advise your supporters to adhere to it to ensure that they do not make any statements that breach the law.
The script should not include reference to a candidate's name to ensure that there can be no suggestion that the canvasser is attempting to raise the profile of the candidate on election day. A phone canvasser can introduce themselves as ringing on behalf of the party.
We are happy to provide you with a view on whether any script complies with the rules for election day.
Websites
Election material does not have to be removed from a website on election day, so long as the material on the site is only made available to people who voluntarily access it. New material must not be posted on the website on election day.
Advertisements promoting the website must not be published on election day. There is no express exemption for the expression of personal political views online by an individual on election day. You will need to ensure that public message boards and comment areas on your website cannot be added to on election day to ensure new election-related material is not posted on the website before 7pm. The measures you may need to put in place to ensure the rules are not breached will depend on the level of interactivity that is provided to others on the webpage or website.
The same rules apply to the use of social media, such as Facebook and Twitter. If you use social media, do not post messages on election day that could breach these rules. The Commission recommends parties temporarily deactivate their Facebook campaign page to avoid the risk of supporters committing an offence by sharing content or posting on your page.
For other forms of social media where people can post comments, the Commission recommends you change the settings, where possible, so that people cannot post messages on election day before 7pm that could breach the rules.
Posts on social media that are not connected in any way with the election can of course be posted on election day.
Party lapel badges
Party supporters may wear party lapel badges in public on election day.
A party lapel badge is a badge or rosette designed to be worn on the lapel and bearing the party's name, emblem, slogan or logo.
Do not display the lapel badge on vehicles or in other places on election day.
Do not include a candidate's name or website on the lapel badge.
The Commission advises parties to include a promoter statement on its party lapel badges as they may be considered to be an election advertisement.
Because the regulated period ends at midnight on the day before election day, the costs incurred in relation to party lapel badges or rosettes only worn on election day are not an election expense. If a party lapel badge or rosette is worn at any time during the regulated period, the costs incurred must be counted as an election expense. If a party cannot be sure that its supporters will not display party lapel badges or rosettes prior to election day, the Commission advises parties to include the expense in its expense return.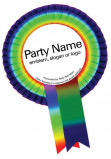 Streamers, rosettes, ribbons etc
Streamers, rosettes (other than those designed to be worn on the lapel), ribbons and similar items in party colours may be displayed on election day but only on people or vehicles and must not contain party names, emblems, slogans, logos, or a candidate's name.
Clothing promoting the party or candidate
Clothing (such as t-shirts) promoting the party or candidate must not be displayed on election day.
Presence in voting places
Candidates and their supporters (except an authorised scrutineer) may only enter a voting place for the purpose of voting. After voting, they must leave.
If a candidate wishes to be filmed or photographed voting, they must have the approval of the Returning Officer. Approval will be given on condition that:
the filming or photography does not disrupt the voting place, and
no interviews are given in the voting place or in the area around it.
Parties and candidates are asked to exercise restraint in the vicinity of voting places to avoid complaints.
MP signage
Fixed signage that does not relate specifically to the election may remain on display on an MP's out-of- Parliament office.
MP's sign-written vehicles that include a party name, emblem, slogan or logo should not be displayed on election day.
Imitation ballot papers
You must not print or distribute, on election day or after midnight on the Tuesday before election day anything which imitates a ballot paper (or part of a ballot paper) to be used at the election and which contains any direction or matter likely to influence a voter. Do not print or distribute on election day any card or paper showing the candidates or parties even if it is not an imitation of a ballot paper.